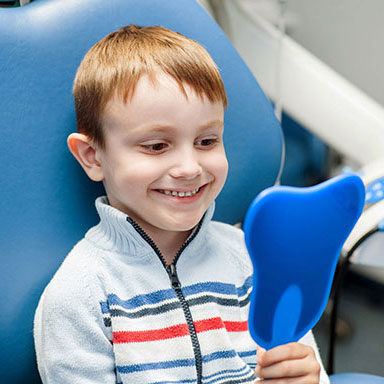 At Kids Dental we appreciate the opportunity to provide a fun and educational atmosphere for our patients!
Introducing Coeur d'Alene Kids Dental
We strive to create a convenient experience for parents and a fun comfortable visit for our patients. We offer simple online forms, the option to text or call our office, digital x-ray imaging, and electric handpieces. At Kids Dental parents are welcome and even encouraged to join their children for treatment and exam appointments. Our office also provides private treatment rooms, and partitioned examination areas to offer more privacy to our patients and their families; but the best part about Kids Dental is our awesome, fun-loving team (even if their occasional magic tricks are only relatively OK).
When Dr. Morin goes to the auto mechanic, he has no idea what they are talking about. He doesn't want his patients and their families to have that experience at Kids Dental. The team at Kids Dental strives to build a partnership with patients and parents to empower them with the understanding behind the recommendations… and also the knowledge that dental visits can be fun!
Our team is proud to serve families with gentle pediatric dentistry in Coeur d'Alene, Idaho, and the surrounding areas including Hayden, Post Falls, and Rathdrum.
Directions:
From Hayden: Coeur d'Alene Kids Dental is easily accessible from Hayden, located a short 15-minute drive on I-95 S.
From Post Falls: Residents of Post Falls can easily reach our office, located less than 8 miles East on I-90 E.
From Rathdrum: Reaching our office from Rathdrum is easy, simply take ID-41 S to I-90 E and you'll be at our office in no time!
Coeur d'Alene Kids Dental
1341 N Northwood Center Ct, STE B
Coeur d'Alene, ID 83814-2471
Located just off the I-90 Northwest Blvd Exit
Phone: 208-500-2204
Text: 208-500-2204
Hours:
Monday: 9:00am - 1:00pm
Tuesday: 8:00am – 4:00pm
Wednesday: 8:00am - 4:00pm
Thursday: 8:00am - 4:00pm
Friday: 8:00am - 1:00pm
Saturday: Closed
Sunday: Closed
Office Construction Tour!
Is your child in need of an exam or other dental treatment? We can help!